Today we are able to offer a little fun for classes across the district. Teachers are calling in to try to win treats for the whole class! Thank you to our sponsors each hour! Chick-Fil-A Pizza Ranch Papa John's Holly's Sweet Treats The Mustard Seed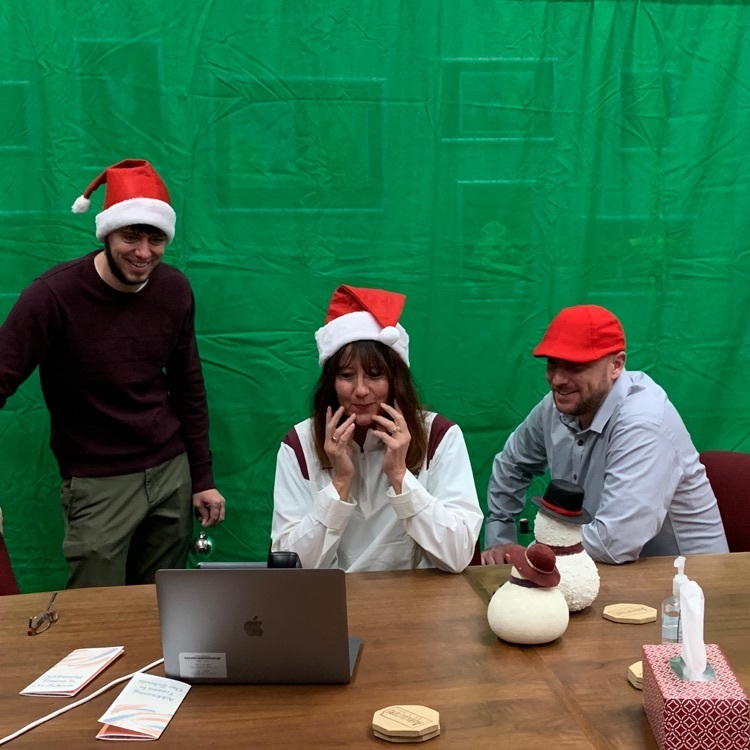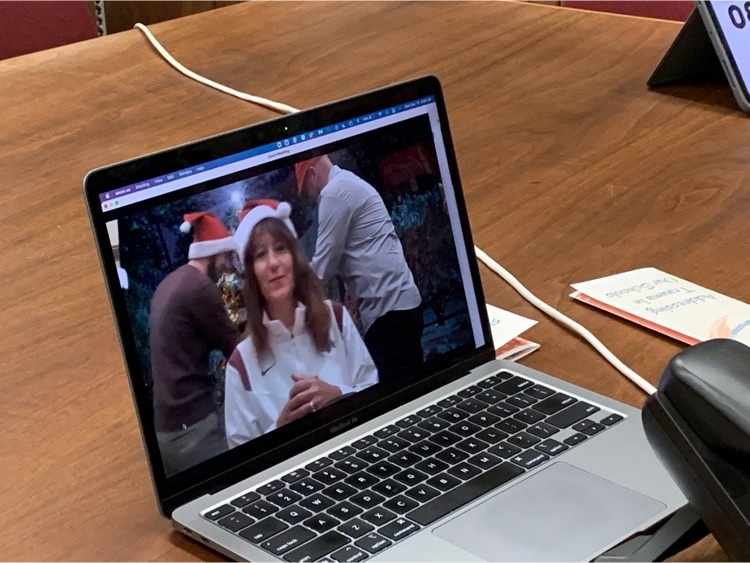 We are having so much fun with district spirit month! Today is Festival of Lights. Share your lighted outfits in the comments!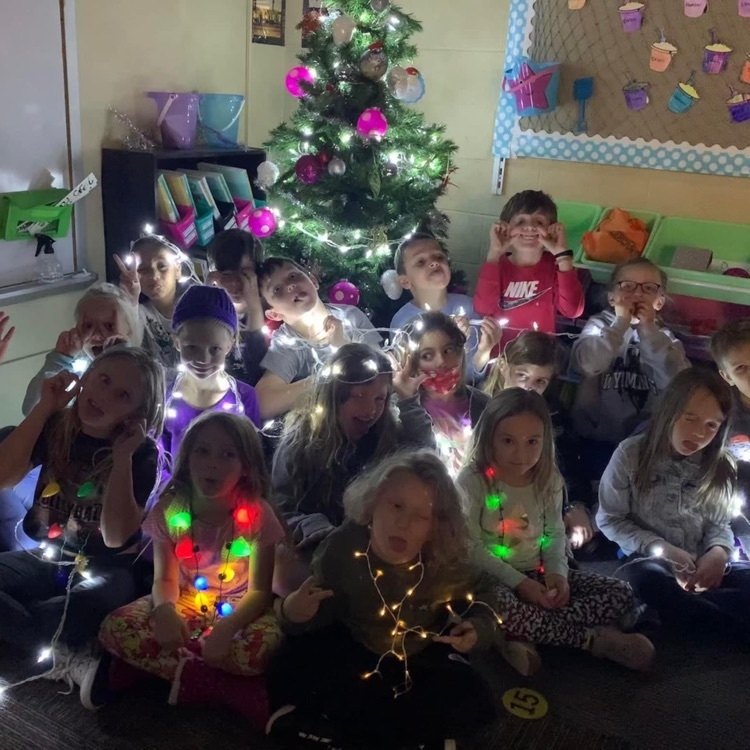 Don't forget to save those non-perishable items for our Ad Astra Academy food drives! One will be in Hutchinson on December 14th and the other in McPherson on December 9th.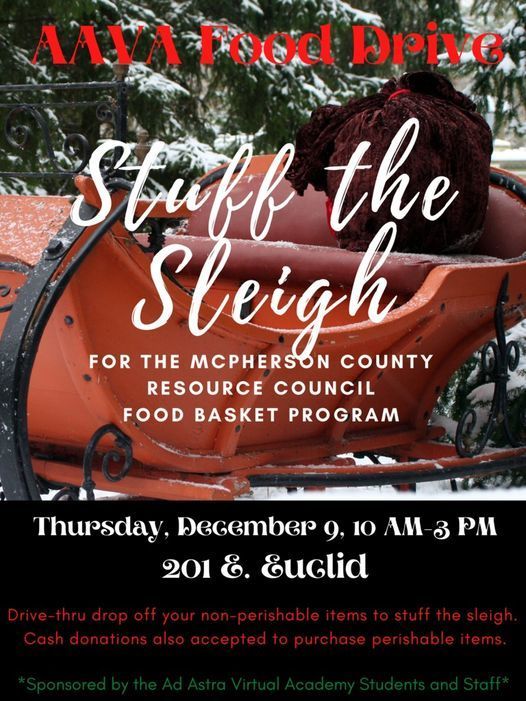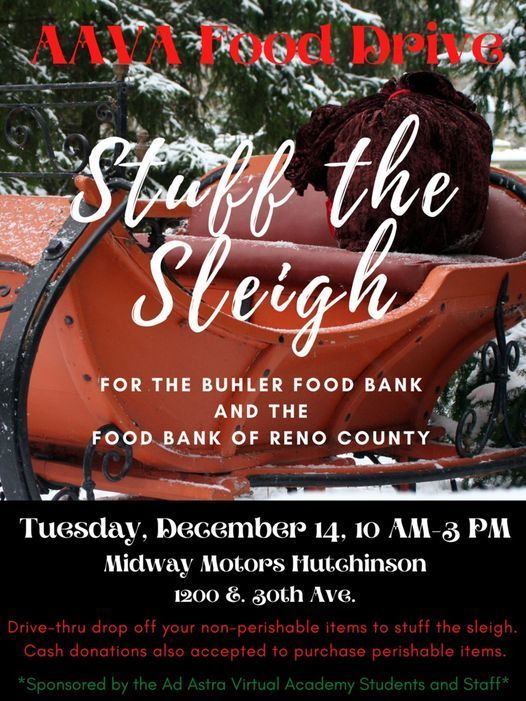 We are having a district wide spirit month in December. Feel free to print the calendar and join us out there in the community. Encourage your place of employment to join us for Operation JOY! We are so excited to see our staff, students, and community member's festive outfits! #BuhlerJOY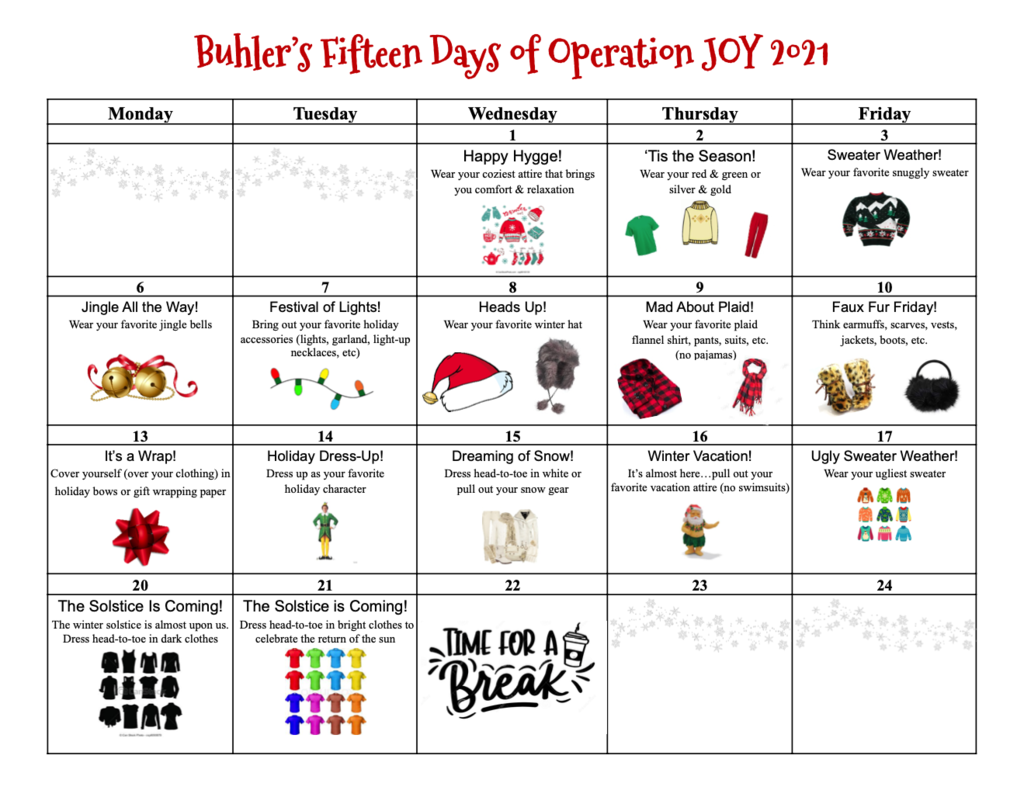 Happy Thanksgiving to the BEST students, staff, families, and community there is! This year we are thankful for the relationships we have with each of you. #BetterTogether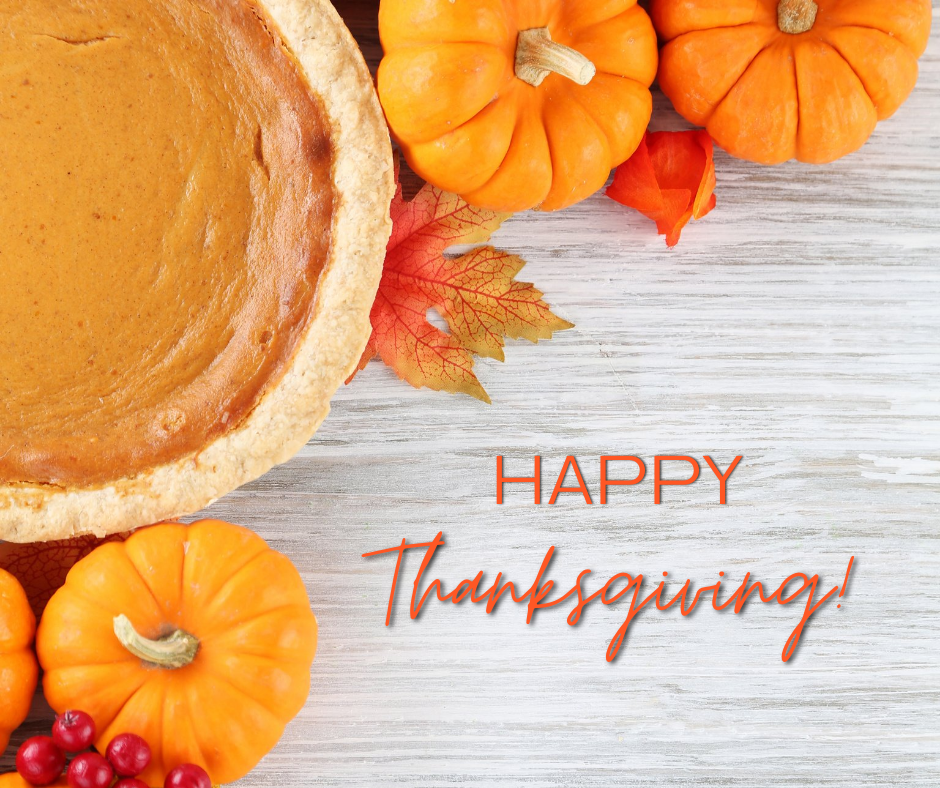 Another vaccine clinic is coming on December 17th at Plum Creek. See below for details!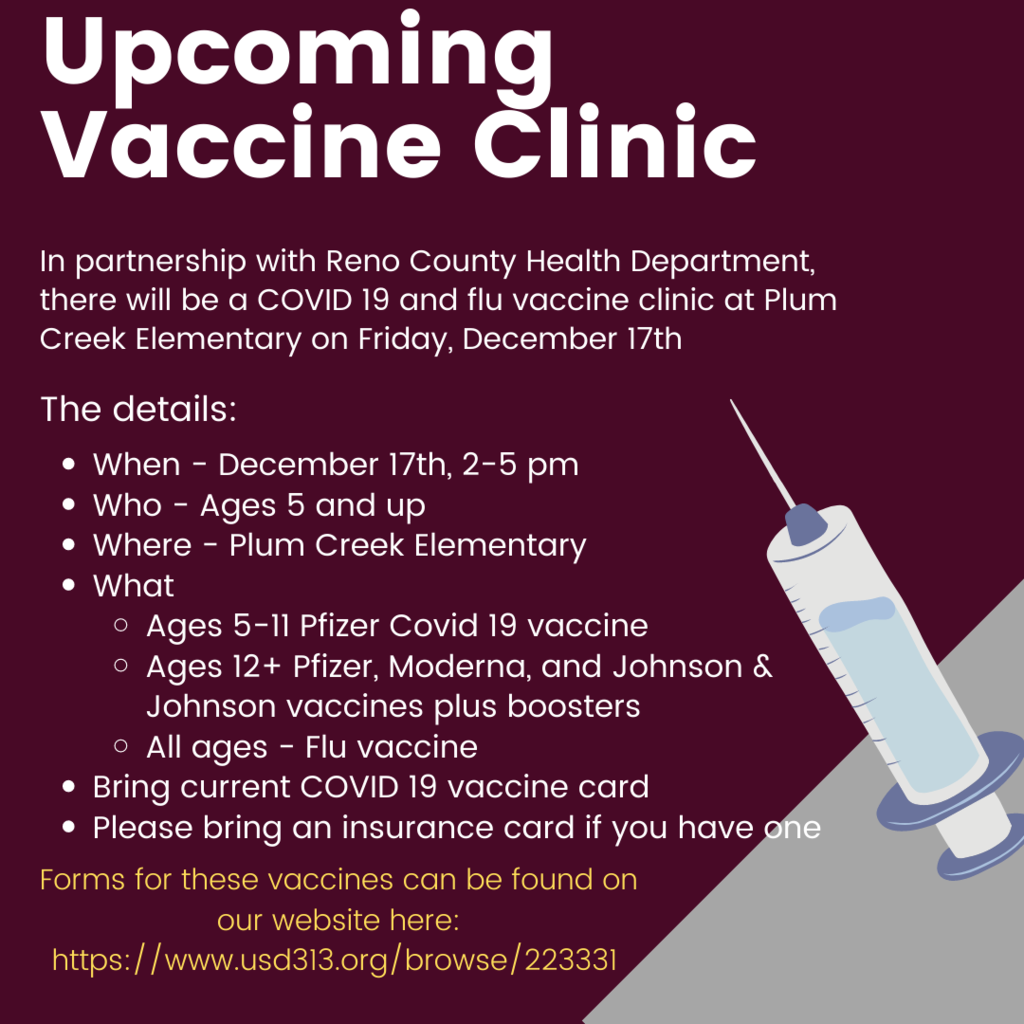 Our staff works so hard, no matter their role, to create an exceptional experience. Check out the "turkey legs" that food service staff have created for students at Buhler Grade School. Made from pretzels, marshmallows, melted chocolate, and rice krispie treats. #Bexceptional

Ad Astra Virtual Academy students will have the opportunity to participate in 2 community service events this winter. The 2nd will take place on Tuesday, Dec. 14 in Hutch. Come by with a bag of food to help us Stuff the Sleigh!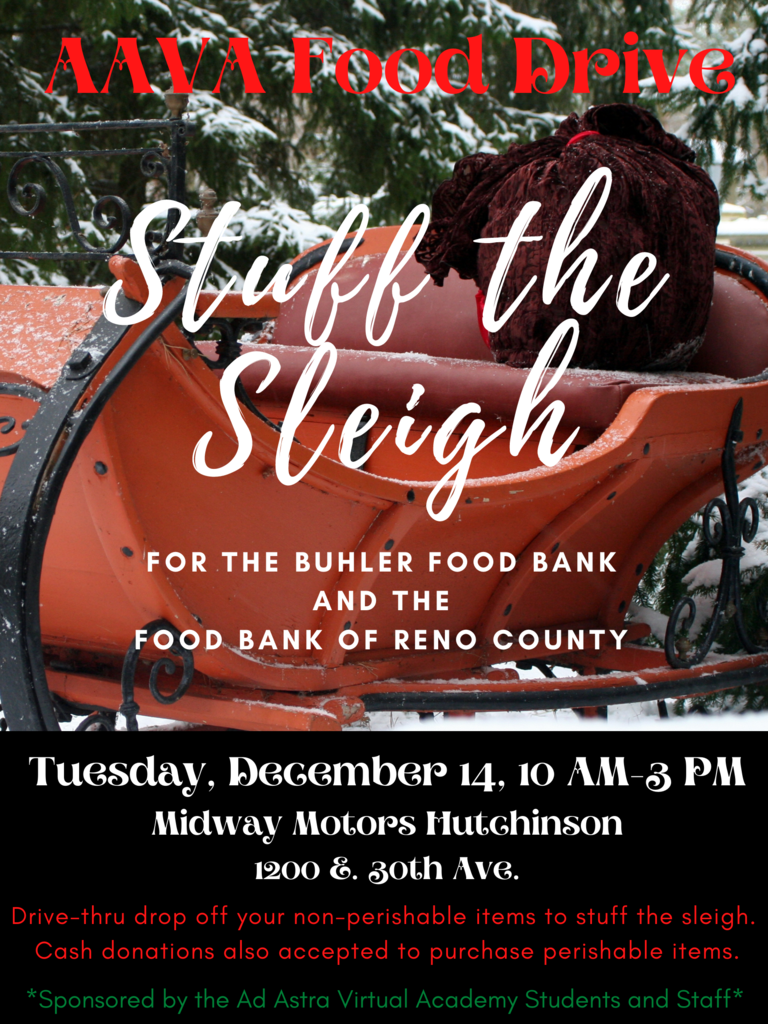 Ad Astra Virtual Academy students will have the opportunity to participate in 2 community service events this winter. The first will take place on Thursday, Dec. 9 in McPherson. Come by with a bag of food to help us Stuff the Sleigh!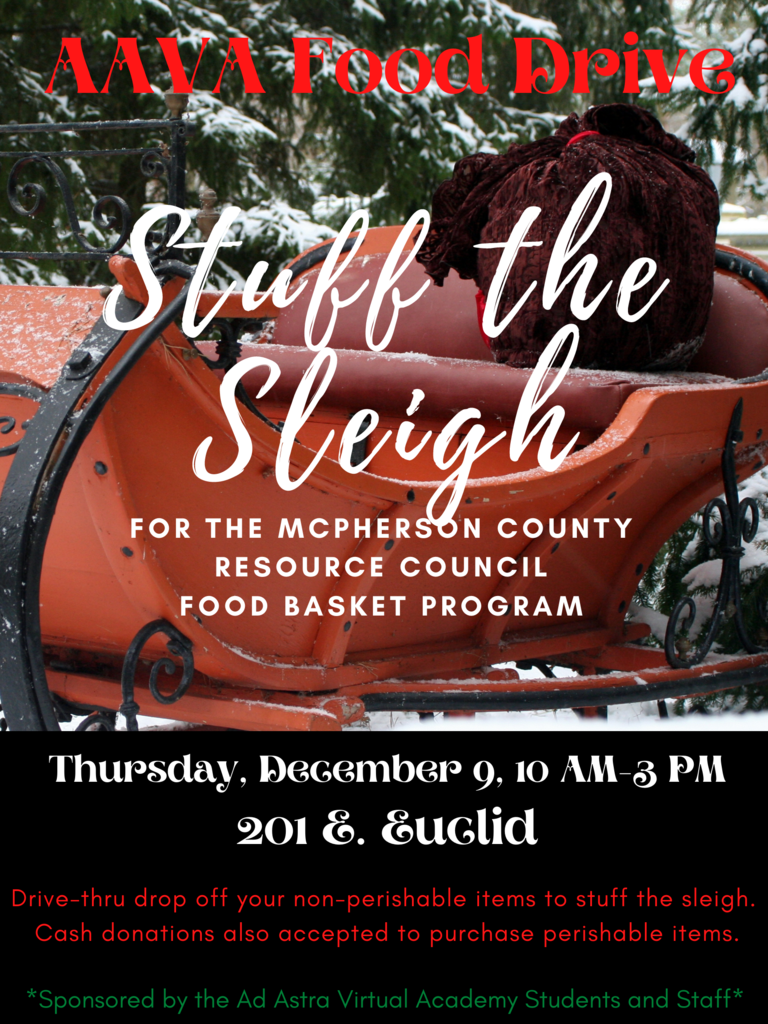 Elementary and Secondary School Emergency Relief III (ESSER III) funds are being provided under the American Rescue Plan (ARP) Act of 2021, Public Law 117-2, enacted on March 11, 2021. The purpose of ESSER III is to address the impact of the COVID-19 pandemic on students by mitigating learning losses, supporting social-emotional needs, and ensuring safe in-person learning for students. As part of our application for ESSER III funds to the Kansas Department of Education we must include input from a variety of stakeholders on how best to use these funds. Your input will impact how ESSER III funds are spent across the school district. Allowable expenses are listed here:
https://www.ksde.org/Portals/0/ECSETS/Announcements/ESSER-15AuthorizedUsesforESSERIIFunds.pdf
(Note that the document says ESSER II. Allowable expenses are the same in ESSER III) Please take a few minutes to provide your feedback. Thank you in advance for your input and participation. The link to the survey:
https://forms.gle/GysQ2C3skByRZWWNA
THANK YOU for your input as we continue to meet the needs of staff and students Buhler serves.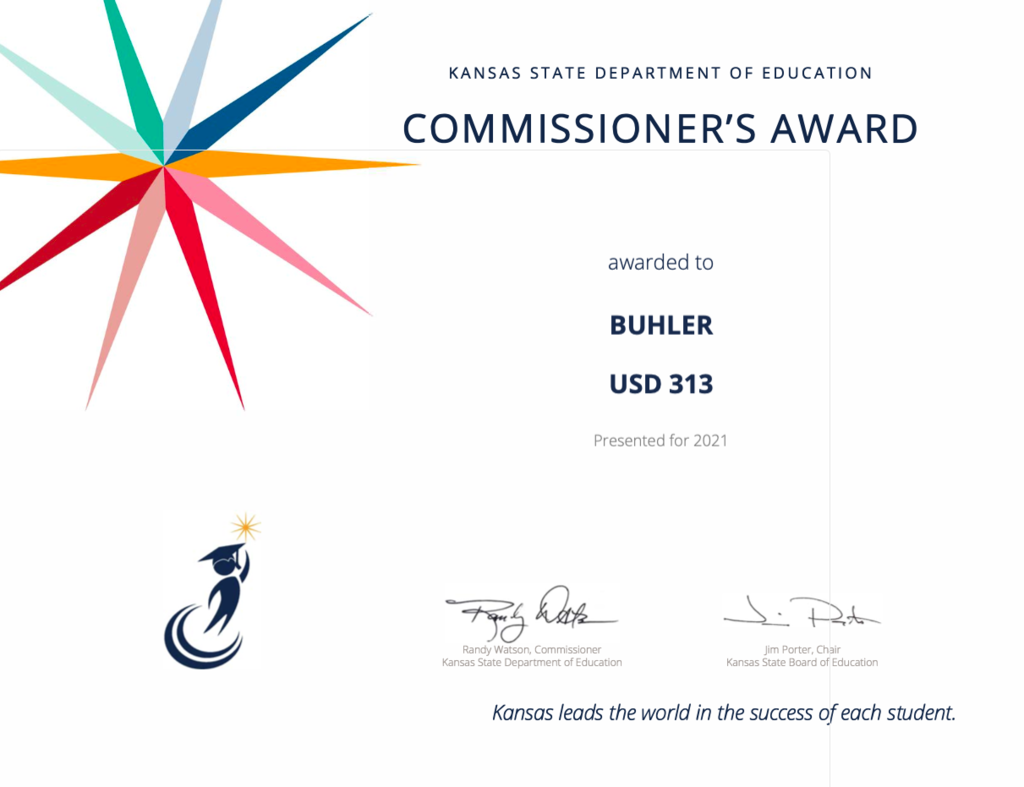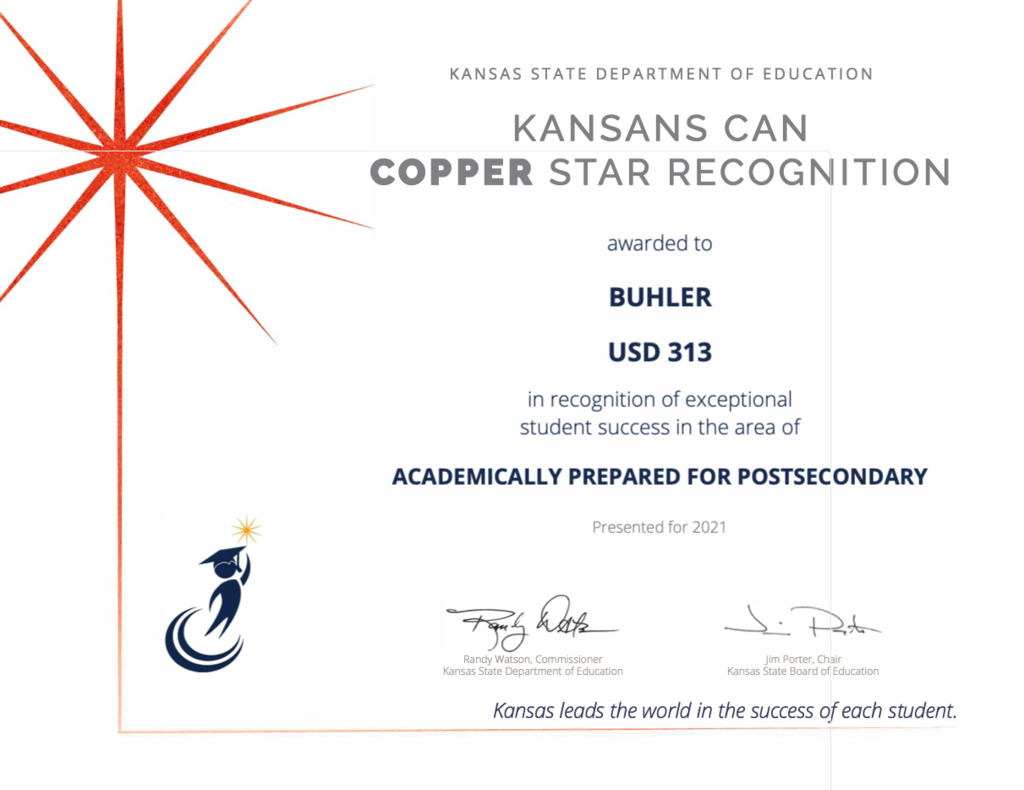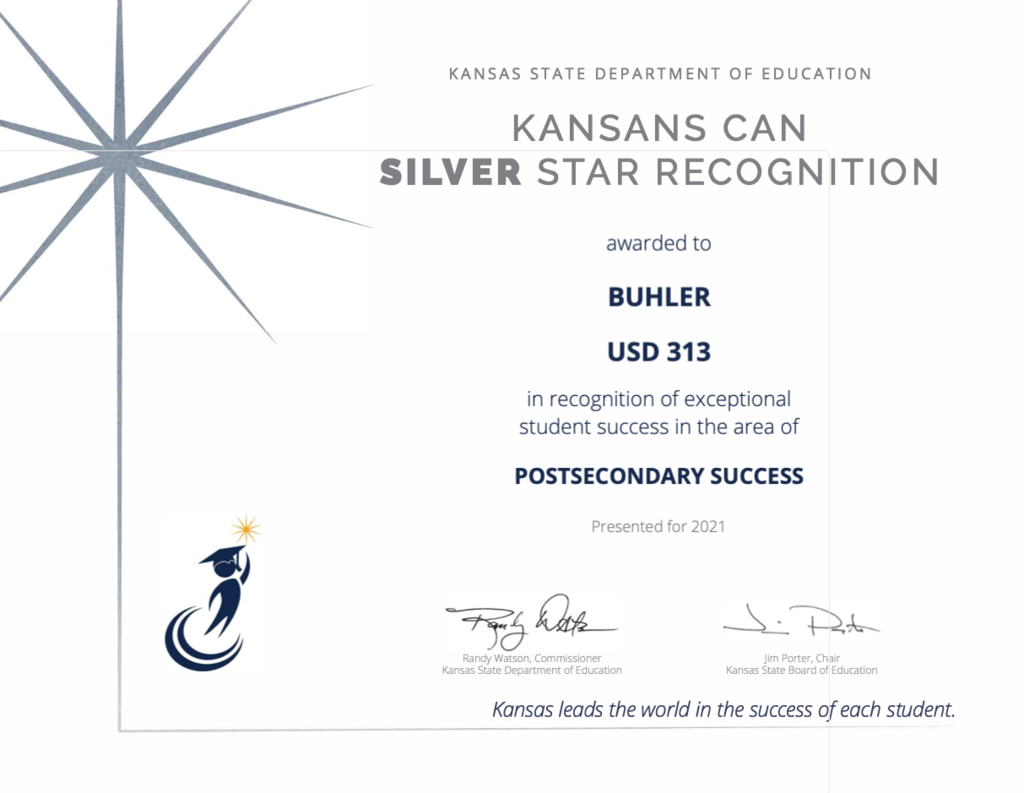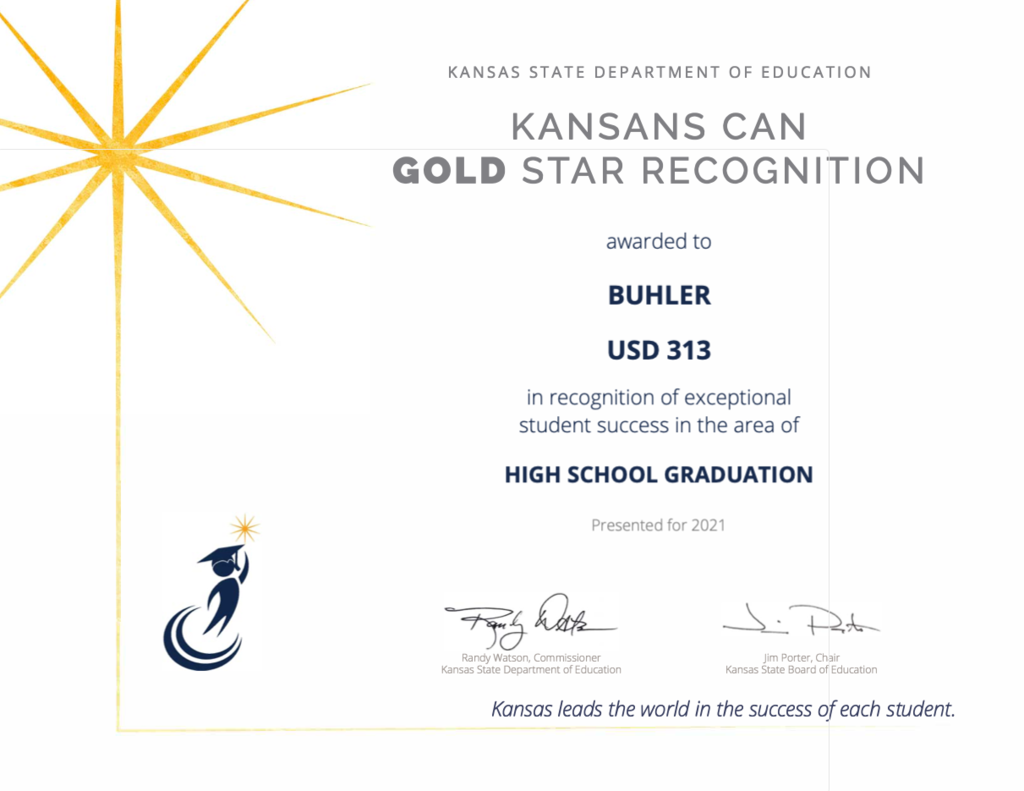 Buhler is proud to introduce the following framework that was collaboratively developed with our stakeholders. The DNA of a Buhler Graduate is our way of emphasizing timeless character traits and skills with our students that will help them to navigate any obstacle in the future whether it be school, work, life, or relationships. Below you will see a launch video with interviews from our teachers and administrators, as well as a link to the full DNA of a Buhler Graduate document. This document communicates all 10 of our DNA skills and traits and includes just a few ways these are addressed at each age as students grow through our schools. View the launch video here:
https://www.youtube.com/watch?v=ol7z0dnsnF0
View the full DNA of a Buhler Graduate document here:
https://5il.co/11kpd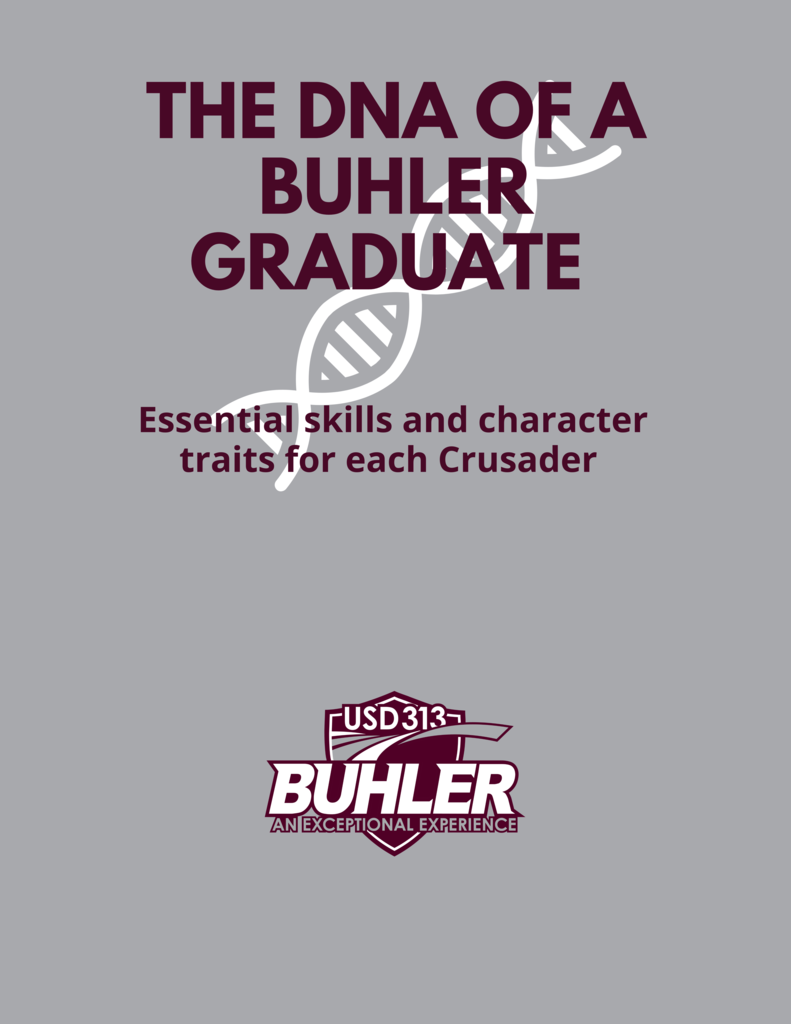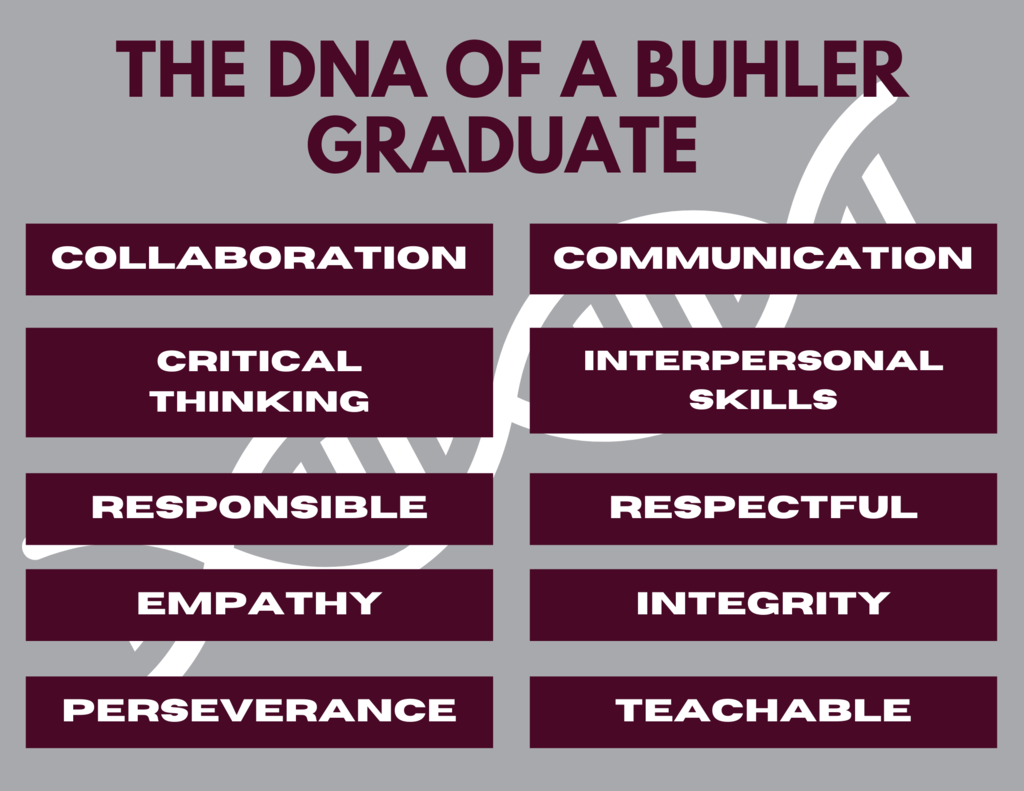 Buhler High School Choral Department is proud to present the Tony-nominated musical "MAMMA MIA!" November 11, 13, 14! Music and Stage Direction by Greg Bontrager & Katelyn Stoss with Choreography by Katelyn Stoss and Rock Combo Direction by Rich Toevs. Mamma Mia will be performed at the Buhler High School Auditorium Nov. 11 and 12 at 7:00 p.m., with a matinee, Nov. 14 at 2 p.m. Tickets are $10 for adults, $6 for K-12 students and are available by calling BHS at 620-543-2255. Tickets will also be available at the door or at this website:
https://our.show/bhsmamamia/37756
Listen to a student produced commercial here: bit.ly/3BPaIiI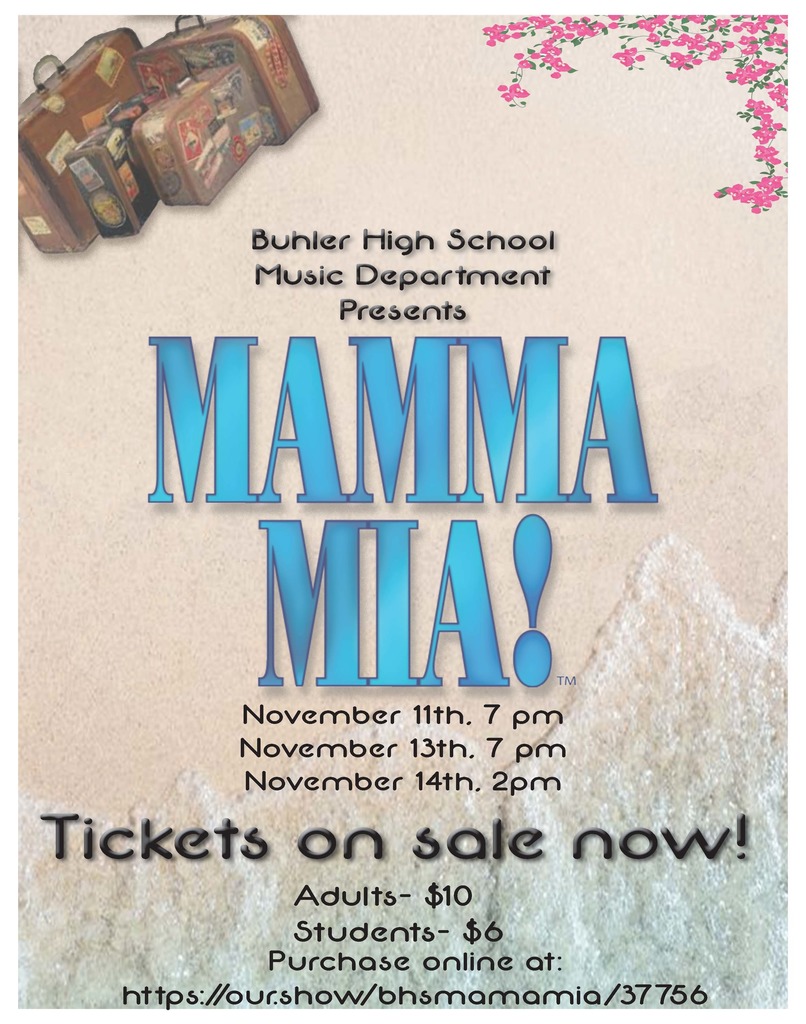 Buhler Grade Families, As of today, Buhler Grade School currently has 22 positive COVID cases with 6 more cases pending. The Board of Education held a special meeting and, under administrative recommendation, voted to have Buhler Grade School go to remote learning. On Friday, November 5, BGS staff will have a professional learning day to organize materials and devices for student pickup. Starting Monday, November 8, Buhler Grade students will be learning remotely through Friday, November 12. All students will return to school on Monday, November 15, for in person instruction. Fortunately, we have planned for this scenario and are ready to quickly make this transition. You will be receiving more information via email regarding remote learning, device distribution, and school lunches. Please follow the USD 313 Buhler Facebook page or the Buhler Grade School Facebook page to monitor updates and further information as it becomes available. To clarify, students will NOT be reporting to Buhler Grade School starting tomorrow, Friday, November 5th. Information for your child's Remote Learning school day and technology pick-up will be shared via email. As we transition, please know that the health and safety of our students, staff, and families remains our top priority. Cindy Couchman, Superintendent of Buhler Schools

There will be a special meeting of the board of education today, November 4th, at 12:30pm. It will be held virtually on ZOOM and can be viewed by the public on our Facebook page here:
https://fb.watch/93Ru-fhN-9/
The agenda can be found here:
https://5il.co/11fu0

Buhler High students Addison Turner, Camila Hershberger, & Madison Mitchell are hosting a turkey trot on Saturday, November 13th to raise money for SIDS awareness and to donate to a SIDS research foundation. See the flyer for more information. Click here to register:
https://docs.google.com/forms/d/e/1FAIpQLSdzrA88g0jP6IAAoJ9bGmvGgHnpv1C4ADA-1YGU1cvaI9uXgA/viewform
When: November 13th, registration opens at 9am and race starts at 10am Where: Meet at Buhler park Price: $25 Participants will receive a shirt and number that comes with entering the event at the registration table on Saturday! Any questions feel free to contact Addie, Cami, Madison or Mrs. Neighbor at the high school.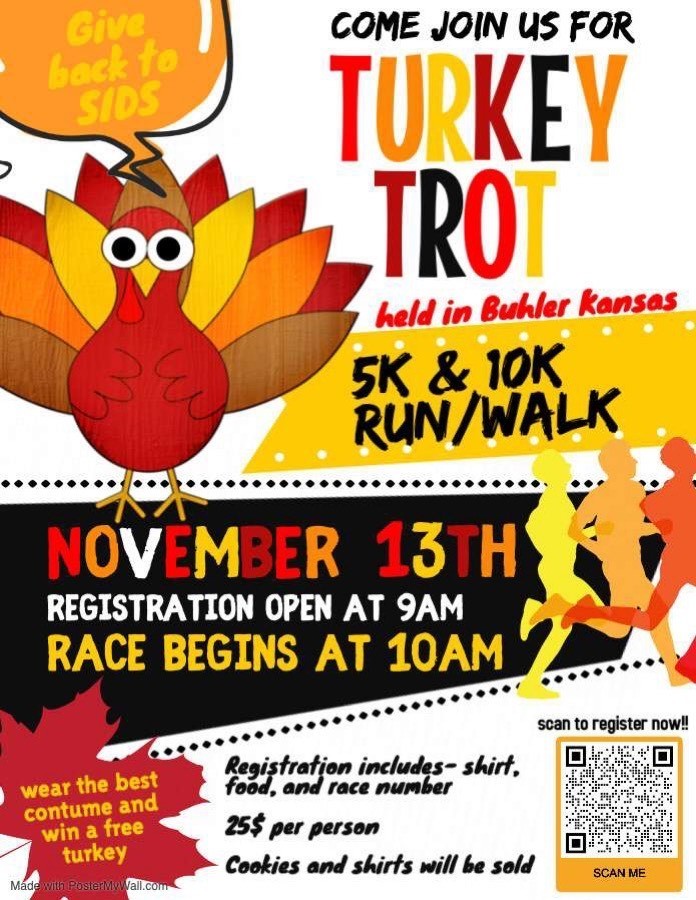 This Wednesday, November 3rd, we will be hosting a Flu and COVID clinic in partnership with the Reno County Health Department. This clinic will be at Buhler High School from 1:00-5:00 and is open to all staff, students, and families. No appointment is necessary. See attached graphic for more information. Below are some FAQs you may have: 1. Is it safe to get the flu shot and the COVID shot/booster at the same time? Yes. 2. What COVID booster is being offered? Reno County Health Department will have all three available and you can choose which one you want. 3. Does it matter which COVID Booster you choose? No. You are able to mix and match brands if you prefer or stay with the same one you originally received. 4. What ages can get the shot? Flu Shots are available to all ages. COVID shots are available to ages 12 and up. 5. When will ages 5-11 have a clinic for the COVID shot? We are working on scheduling one with the Reno County Health Department. There will be more information coming later. 6. What do I need to bring? If you are getting the COVID booster, bring your vaccination card (shows dates of previous COVID shot). If you have insurance, bring a copy of your insurance card. 7. I can't make it Wednesday, what are my other options? You can go to any pharmacy and ask for a flu shot or COVID booster. Buhler Schools will be scheduling more clinics later but no specific dates have been set yet. 8. If I have had COVID recently, do I need to wait 90 days to get the Booster? There is no waiting period if they have had Covid, however, sometimes they may react to the vaccination with not feeling well stronger than someone who has not had Covid. 9. I had the monoclonal antibodies (this is an IV for patients diagnosed with COVID), do I need to wait 90 days to get the Booster? Yes. You will need to wait 90 days if treated with monoclonal antibodies from having Covid. Cindy Couchman, Superintendent of Schools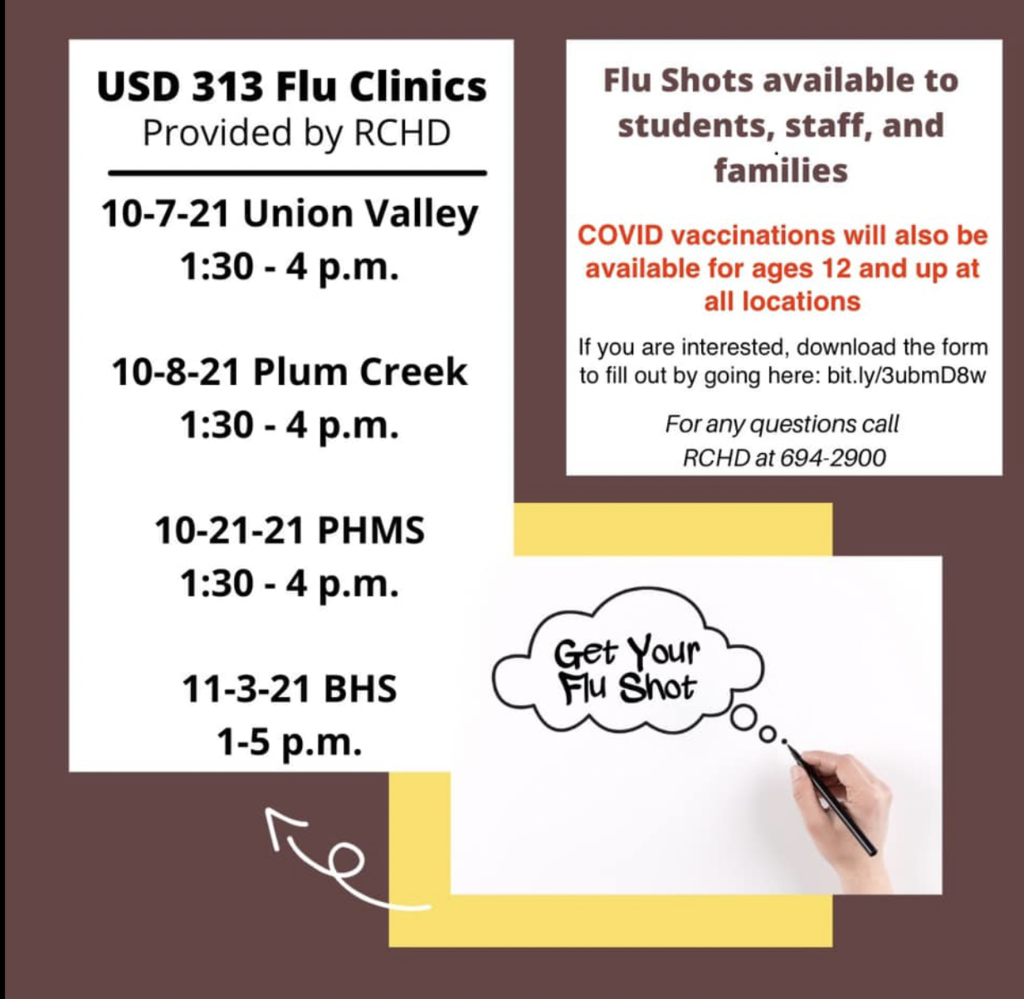 Ad Astra Virtual Academy is now taking PreK-12 student enrollments for January 2022. Contact Erica Shook at eshook@usd313 or 620-543-2258 for more information or to receive your new student forms. Come and join us for an exceptional experience!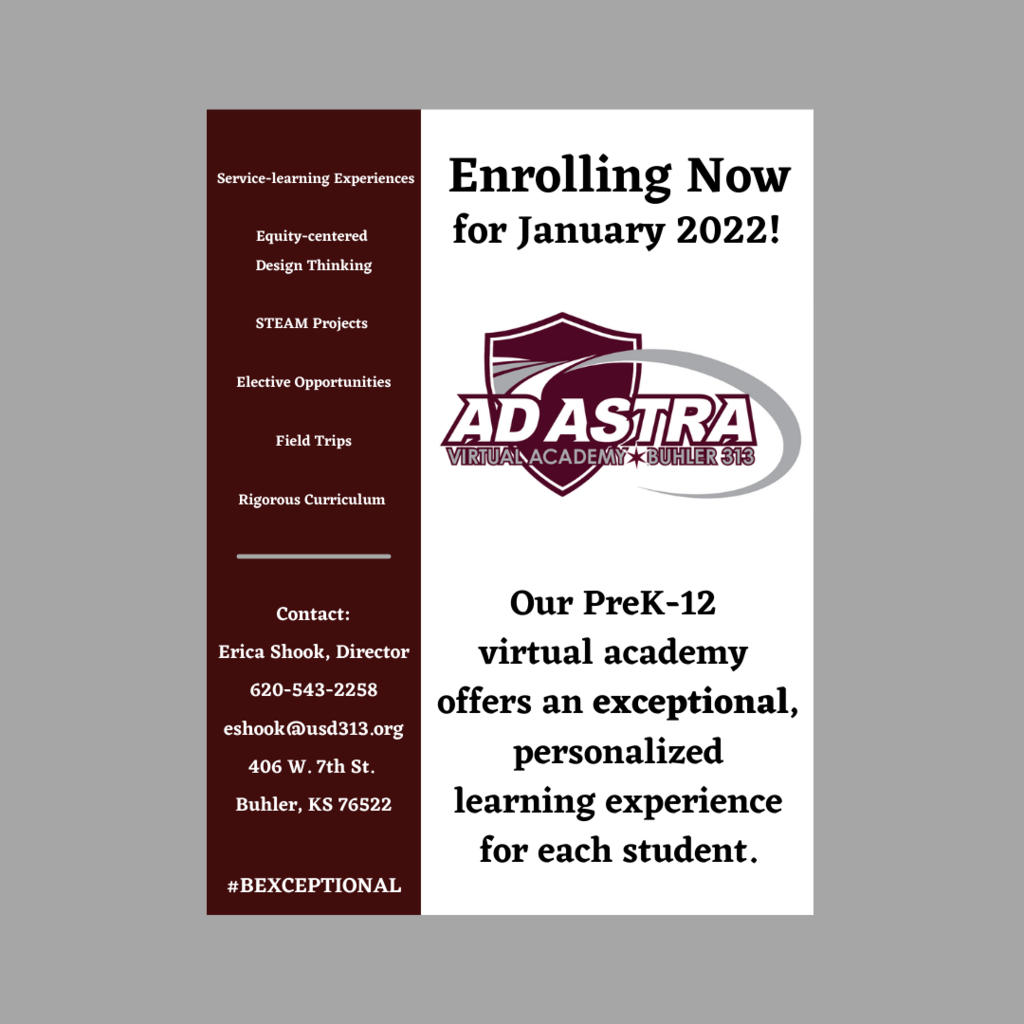 Buhler High School Music Department Presents: Mama Mia! Coming November 11th, 13th and 14th. Tickets on sale now at: our.show/bhsmamamia/37756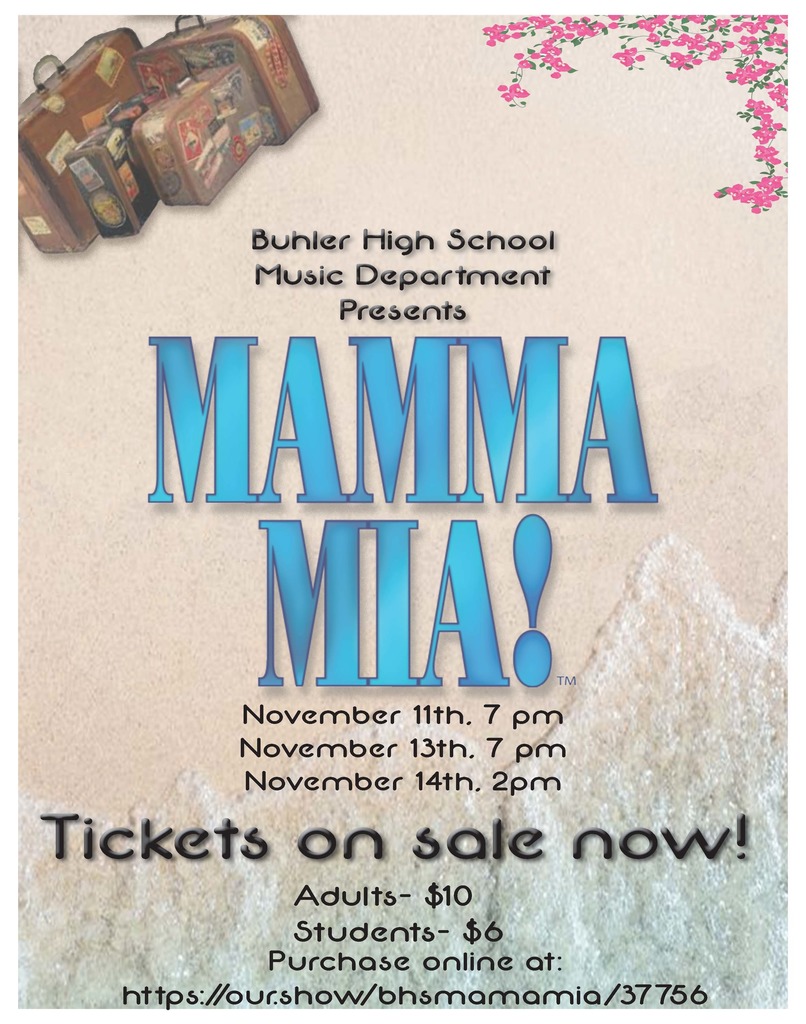 Our fifth graders at Buhler Grade School are working on a World Changer Project which will benefit children in poverty around our world. They are currently collecting donations of items that will be sent to children during the upcoming holiday season. Would you look at the lists of suggested items and bring any donations to Buhler Grade School by Wednesday, October 27th? Thank you in advance for your generosity! Mr. Geilenfeldt, Mrs. Lohrentz, Mr. Konrade #BetterTogether #DirectorsofHope